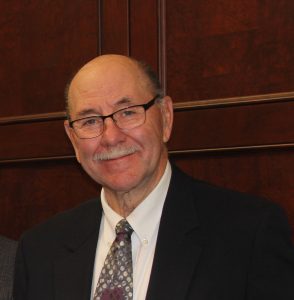 It's the people that make the difference.  How often have we heard that old adage?  Well, it has never been truer said of anyone than of the founder of Ideal Cabinets, Ken Rakes.  He made a difference.
How did Ken make a difference?
Ken made a difference in business.
Fifty-three years ago, he founded Ideal Cabinets.  Ken came from a background of people with an entrepreneurial spirit, including his grandma who had her own country store.   Growing up, Ken knew many people who worked hard to run their own businesses, and he saw what that could do for him.  However, Ken credited his father-in-law with being his inspiration to go into business for himself. Ken said "He kept telling me that was where my future was.  Without him believing in me I don't think I would have ever done it."
Ken said, "I didn't have the money or the nerve.  Finally, one day another guy that worked with me said 'Let's go into business together.' He had a truck, so we started a company. I don't remember where the name 'Ideal' came from. But we liked it and settled on the name.  We rented a space in Christiansburg of about 1200 sq feet."
The partner lasted about two years, after the second year, he wanted out.  So Ken and Virginia bought him out, and proceeded on without him. During these early years of the business, Ken and Virginia had two children, a daughter Gina, and a son Pat.  This gave Ken more incentive to work hard to make his business succeed, because he wanted to provide a good life for his family and be able to afford to send his kids to college.
Ken said, "As the business grew, we branched out into many different products."
Somewhere in this process, Ken started studying to be a certified kitchen designer, and Ideal joined the National Kitchen and Bath Association and started going to their Seminars. Ken started educating himself through NKBA seminars, because they had very successful kitchen people who would come and speak.  Ken and Jenny would go to different classes, and both take notes, and then teach each other what they had learned.
Ken says, "I can't tell you what year it was, but I realized I had to make some adjustments so that that I could make the money that I wanted to make for my family to be more than just average (like go out for a good steak dinner)."  And that is when Ken added on the Custom line of Wood Mode and hired an additional Salesman.
And from there it grew and grew. The Christiansburg store's continued growth allowed for the eventual addition of the Roanoke showroom, the Charlottesville showroom, and the Salem shop facility.  We not only design and build the finest kitchens and baths but Ideal now provides quality commercial cabinetry for all fields of industry: including medical, educational, financial and more.
Today we have thirty employees, more awards than we can count, and a bright future, and it is all because Ken had a dream, ambition, and the work ethic to make it happen.
Ideal's growth continues today, as we are opening another manufacturing facility in Rocky Mount, Virginia.  No one was more excited about this than Ken was.
Every year Ideal has their own version of the People's Choice Awards, and Ken is voted most enthusiastic every year. His excitement was contagious.
In addition to making a difference in business, Ken also made a difference in people's lives.
If you had to summarize Ken in two words, it would be "Ken Cared."  Ken cared about his family.  Ken cares about his business, and about the lives of his employees.  Ken cared about his customers and making them happy. He just cared about people.  It was who he was.
If Ken was working at the Christiansburg store, he would call the employees in Charlottesville and Roanoke to chat with each one and see how our day was going and see if we needed anything.  He checked on all of us regularly. He applauded our sales, and our hard work.  He commiserated with us about our losses, and he cared about what was going on in our personal lives.  Many of us have affectionately dubbed him "Daddy", he even had a pillow that said, "Daddy's chair".  Ken had a happiness about him that made people smile when they saw him or talked to him. It was simple to know why, they knew he cared.
Ken was full of joy and laughter. He always brightened up a room.  When I started at Ideal, I was working in my office with my head buried in the computer and spreadsheets, and Ken came to visit me.  He had many words of wisdom, but the advice that surprised me was when he said, "Make sure you take some time to go talk to everyone else and get to know them.  Don't spend all your time in your office."  I had never had an employer encourage me to socialize with the other employees before.  But Ken knew the importance of team building and making sure his employees became more than co-workers.  He knew we needed to be a family.  I listened to Ken, and now my co-workers are my dearest friends and my second family.  Thank you, Ken.
Ken made a difference by being a humble servant of God.
When asked what has made Ideal Special, and what has allowed us to remain in business for fifty years, Ken said, "I have been blessed to be surrounded by great employees and great subcontractors who have helped build Ideal into the company it is today. But through it all God has led the way.  I didn't even know it at times, but it was God opening doors for us."
Ken was always humble about his accomplishments at Ideal and was always quick to tell you that he could not have done it without his Jenny (Virginia).  Ken led by example. He didn't have to tell you that he loved the Lord, you could see it in his life.
If you were having a difficult time, Ken prayed for you, and you knew it. He lifted you up with his prayers and steadfastness in his faith.
On a particularly difficult day, I was sitting at my desk after work at about 5:30 and I was praying.  My phone rang, and it was Ken.  He said, "God just laid it on my heart that I needed to call you."  That was my friend, Ken, he was my prayer warrior.  He was always there when I needed him.
We asked Ken what his dream was for Ideal for the next fifty years, and he said "I want the business to continue, and to see Pat do whatever he sets his mind to.  He has already taken the business to new levels, and I look forward to watching it grow.  I want the business to grow and be successful and provide for my family and employees for many years to come."
Ken's gentle loving way was to wish for his company to take care of the people he loved.
Ken made a difference in many people's lives over the years, through his business, his caring, and his faith. Ken was a successful man and blessed us with a business that supports many families and has changed many lives.  However, when his success is measured, it won't be about the sales he made, or the stores he founded. It will be about the difference he made in the lives of others, and the joy he gave to so many people every day. By that measure, Ken Rakes was one of the most successful men I have ever known.
We are very proud to have him as the founder of our company. His legacy will live on through us, as we will strive to live up to the mark he set, and to make a difference just like he did, every day.