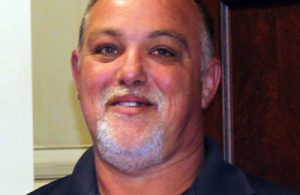 "Be a Simple Kind of Man… be something you love and understand."  Song lyrics from the classic southern rock band Lynyrd Skynyrd's song "Simple Man," yet they ring true about life, and the song itself speaks' volumes about the life of Ideal Cabinets' Shop Assistant, Allen Aliff.
Allen has been with Ideal Cabinets for almost two years now, working in our Christiansburg shop. Sometimes when he is needed, he lends a hand to our Salem Shop as well.  Allen is not hard to please, he gets along well with everyone, and is glad to help wherever he can.  Allen is the true definition of a gentle soul.
Allen grew up in the Roanoke-Salem area, and was raised by a single Mom.  When asked about his childhood, Allen said "We grew up poor, we didn't have a lot.  Mom was a waitress. She worked two or three jobs to take care of things."   Allen has a younger brother and sister that he helped take care of while his mom was working.  Though Allen experienced what some would call a "tough time", it didn't dampen his spirit or cause any harshness or resentment in him at all.  Instead he says it taught him "the value of family and hard work."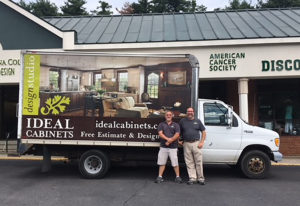 Allen has been working since he was a young man.  Before working at Ideal Cabinets, Allen worked as a delivery driver, and furniture manufacturer associate.   Allen says he loves working at Ideal Cabinets because it is family owned, and because we produce quality products.   He also says he enjoys seeing the customers so happy when a job is complete, and that it gives him a feeling of satisfaction for a job well done.
When Allen is not working at Ideal, he enjoys spending time with his wife Deborah, his son Allen, his daughter Gabriel, and his step-daughter, Justine.  They believe family time is important and try to do things together whenever they can.   In addition to family time, Allen loves living in the mountains, and enjoys hunting and fishing.
Allen's mom, Mary Wray, passed away two years ago. When Allen talks about her, he gets a tear in his eye, and you can tell from the emotion in his voice how much he loved and admired her.  She must have been a phenomenal woman to work as hard as she did, and still manage to raise a son who grew up to be such a good man.
I can imagine her saying to him something along the lines of the lyrics to the song "Come sit beside me… and listen closely to what I say … take your time, don't live too fast. Troubles will come, and they will pass.  You'll find a woman, and you'll find love, and don't forget son, there is someone up above." But most importantly, I think she would have said. "Follow your heart and nothing else… you can do this if you try.  All I want for you my son is to be satisfied."
Who knew the words to a song could be so poetic and could give so much wisdom. The most important things in life truly are simple – love, hard work, and appreciation.  Allen knows a lot about all three.  We are proud to have Mary's son as part of our team.